Posts for: May, 2021
By Eli B. Mayes, DDS
May 11, 2021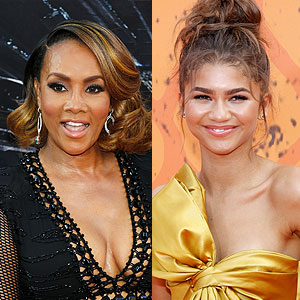 Kill Bill fans have been pressing for a third installment of the stylized revenge tale since Kill Bill, Volume 2 hit the theaters in 2004. Finally, filmmaker Quentin Tarantino is talking about the long-awaited Volume 3 as if it might soon become a reality. The third movie in the franchise would most likely focus on the now-grown daughter of the character played by Vivica A. Fox in the first two. Vivica recently made known that should Kill Bill, Volume 3 go into production, she thinks 24-year-old actress and singer Zendaya would be perfect for the role.
Although Zendaya is a few inches taller than Vivica, the two women have a few things in common. Besides being talented movie and television actresses who have won awards for their roles, they both have camera-ready smiles. And both Vivica and Zendaya can thank their dentists for helping their smiles be their best.
In 2016, Vivica told Dear Doctor magazine that her smile needed a boost, so she opted for dental veneers to correct gaps between her teeth—and she's very happy with them. "I love my veneers!" she exclaimed. Zendaya also had help in achieving her Hollywood-perfect smile. In 2011, early in her career on the Disney channel, she wore clear orthodontic aligners to straighten her teeth. To further perfect her smile, she visited her dentist for professional teeth whitening in 2016, inviting a film crew along to show how easy and effective in-office tooth whitening is.
But you don't have to be a celebrity to enjoy smile-enhancing dental treatments. They are great options for anyone who wants to improve the look of their smile.
Teeth whitening. If your teeth are looking yellowed, in-office whitening can make them up to 10 shades brighter in one visit! Some people prefer professional at-home whitening kits, which produce great results more gradually.
Bonding or veneers. For small chips and cracks, cosmetic bonding can cover flaws by adding layers of a tooth-colored material over the tooth. For bigger flaws, heavy discoloration or gaps between teeth as Vivica had, dental veneers may be the answer. These custom-made thin porcelain shells cover the front-facing surface of the tooth, hiding imperfections to give anyone a Hollywood smile.
Orthodontics. Crooked teeth can detract from the look of a smile. While traditional braces are an option, many people with mild to moderate alignment issues find removable clear aligners the perfect way to get the smile they desire with minimal impact on their daily activities. Clear aligners are very subtle and can be removed for eating and cleaning as well as for special occasions—or for filming scenes, as Zendaya knows.
Contact us or schedule an appointment for a consultation to see if professional teeth whitening, cosmetic bonding or veneers, orthodontics, or another dental treatment could enhance your smile. You can also learn more by reading the Dear Doctor magazine articles "Important Teeth Whitening Questions Answered" and "How Your Dentist Can Help You Look Younger."
By Eli B. Mayes, DDS
May 01, 2021
Although dental care is our primary focus, we dentists are also on the lookout for other health problems that may manifest in the mouth. That's why we're sometimes the first to suspect a patient may have an eating disorder.
Eating disorders are abnormal dietary patterns that can arise from mental or emotional issues, the most common being anorexia nervosa and bulimia nervosa. Each has different behaviors: Anorexics abnormally restrict their food intake ("self-starvation"), while bulimics typically eat heavily and then induce vomiting ("binge and purge").
Although bulimics are more likely to binge and purge, anorexics may also induce vomiting. That practice in particular can leave a clue for dentists. While vomiting, powerful stomach acid enters the mouth, which can then soften and erode tooth enamel.
It's the pattern of erosion a dentist may notice more than the erosion itself that may indicate an eating disorder. A person while vomiting normally places their tongue against the back of the lower teeth, which somewhat shields them from acid. The more exposed upper teeth will thus tend to show more erosion than the bottom teeth.
A dentist may also notice other signs of an eating disorder. Enlarged salivary glands or a reddened throat and tongue could indicate the use of fingers or objects to induce vomiting. Lack of oral hygiene can be a sign of anorexia, while signs of over-aggressive brushing or flossing may hint of bulimia.
For the sake of the person's overall well-being, the eating disorder should be addressed through professional counseling and therapy. An excellent starting point is the website nationaleatingdisorders.org, sponsored by the National Eating Disorders Association.
The therapy process can be lengthy, so patients should also take steps to protect their teeth in the interim. One important measure is to rinse out the mouth following purging with a little baking soda mixed with water. This will help neutralize oral acid and reduces the risk of erosion. Proper brushing and flossing and regular dental visits can also help prevent dental disease.
An eating disorder can be traumatic for both patients and their families, and can take time to overcome. Even so, patients can reduce its effect on their dental health.
If you would like more information on eating disorders and dental care, please contact us or schedule an appointment for a consultation. You can also learn more about this topic by reading the Dear Doctor magazine article "Bulimia, Anorexia & Oral Health."