Posts for tag: gum disease
By Eli B. Mayes, DDS
January 21, 2021

Over the years, dentists have become quite proficient in treating even the most severe periodontal (gum) disease. Many of these positive outcomes are achieved through manual effort using simple hand instruments called scalars and conventional periodontal surgery.
But that might be changing soon: Periodontists (specialists who care for the gums and other supporting dental structures) are starting to use a different kind of tool for gum disease treatment—surgical lasers.
Although lasers are more commonplace in other fields of medicine, recent developments hint at a more prominent future role for them in dentistry. One of these developments is a laser procedure called Laser Assisted New Attachment Procedure (LANAP®) that treats deep spaces of infection called periodontal pockets, which develop advanced gum disease.
These pockets form as infected gums gradually detach from a tooth as the supporting bone is lost. This widens the normally narrow gap between the teeth and gums. The ensuing pocket fills with infection that must be removed to adequately treat the gum disease. As the pocket extends down to the root, it's often necessary to perform a surgical procedure through the adjacent gum tissue to fully access it.
But with the LANAP® procedure, the dentist can use a laser to access a deep pocket without opening the gums. Moving from above into the gap between the tooth and gums, the light from the laser has the ability to remove diseased tissue without damaging healthy tissue.
The dentist follows this with ultrasonic equipment and manual scalers to further decontaminate the tooth root surface. The laser is then employed once again to facilitate the formation of a blood clot between the teeth and gums to seal the area with a fibrin clot. Once treated, the dentist will monitor the tooth to ensure maximum bone regeneration and gum reattachment.
Although outcomes are the same for the most part, this laser technique for periodontal pockets may have some advantages over conventional surgery. Studies so far show that LANAP® causes less tissue removal and bleeding, less potential for gum recession and less discomfort experienced by patients.
It's not likely that lasers will fully replace conventional gum disease treatments any time soon. But if the encouraging evidence thus far continues, the laser will one day become as commonplace alongside the other tools used for gum disease treatment.
If you would like more information on treatments for gum disease, please contact us or schedule an appointment for a consultation. You can also learn more about this topic by reading the Dear Doctor magazine article "Treating Gum Disease With Lasers."
By Eli B. Mayes, DDS
February 16, 2020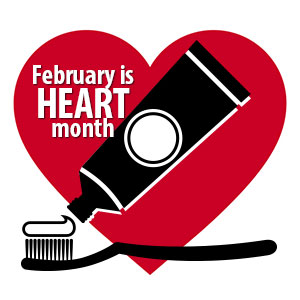 It's February and time for a little heart love. And not just the Valentine's Day kind: February is also American Heart Month, when healthcare providers promote cardiovascular health. That includes dentists, because cardiovascular health goes hand in hand with dental health.
It just so happens that February is Gum Disease Awareness Month too. If that's a coincidence, it's an appropriate one: Although different in nature and health impact, heart disease and gum disease are linked by a common thread: chronic inflammation.
Inflammation (or tissue swelling) in and of itself is beneficial and often necessary. When cells in the body are injured or become diseased, the immune system isolates them from healthier cells through inflammation for the protection of the latter. Once the body heals, inflammation normally subsides.
But conditions surrounding both heart disease and gum disease often prevent a decrease in inflammation. With heart disease, for example, fatty deposits called plaque accumulate within blood vessels, impeding blood flow and triggering inflammation.
A different kind of plaque plays a pivotal role with gum disease. Dental plaque is a thin biofilm that builds up on tooth surfaces. It's home to bacteria that can infect the gums, which in turn elicits an inflammatory response within those affected tissues. Unless treated, the infection will continue to grow worse, as will the inflammation.
The bad news is that these two sources of chronic inflammation are unlikely to stay isolated. Some recent studies indicate that cardiovascular inflammation worsens gum inflammation, and vice-versa, in patients with both conditions.
The good news, though, is that treating and managing inflammation related to either condition appears to benefit the other. Patients with cardiovascular disease can often reduce their inflammation with medical treatment and medications, exercise and a heart-friendly diet.
You can also ease gum disease inflammation by undergoing dental plaque removal treatment at the first signs of an infection. And, the sooner the better: Make a dental appointment as soon as possible if you notice swollen, reddened or bleeding gums.
You can lower your gum disease risk by brushing and flossing daily to remove accumulated plaque, and visiting us at least twice a year for more thorough dental cleanings and checkups. If you've already experienced gum disease, you may need more frequent visits depending on your gum health.
So this February, while you're showing your special someone how much you care, show a little love to both your heart and your gums. Your health—general and oral—will appreciate it.
If you would like more information about gum health, please contact us or schedule a consultation.