Posts for tag: nutrition
By Eli B. Mayes, DDS
December 12, 2020
During this time of year, many of us dust off traditional family recipes and make our favorite holiday treats. There is, however, a small price to pay for all that nostalgic goodness in the shape of a few extra pounds to deal with in the new year. We may also be increasing the risk for something even more unpleasant: tooth decay.
The main cause, of course, is a certain carbohydrate integral to many holiday goodies: sugar.  We humans love it, but so do oral bacteria that readily devour any sugar lingering in our mouth after eating. This fuels bacterial reproduction, which in turn increases the production of acid that softens tooth enamel.
There are a number of strategies you can follow to reduce this effect. You can remove sugar completely from your holiday preparations—and risk family and friends "voting you off the island." Or, you can try these tips for easing the impact of holiday sugar on your dental health.
Look for ways to reduce sugar. Just because you're not throwing the sugar bowl out the window doesn't mean you have to go all out using it. Instead, try to modify older recipes (or look for newer versions) to decrease the amount of sugar in candies and baked goods. You may also consider alternative sweeteners like sucralose that tolerate high baking temperatures.
Balance savory with sweet. Not all holiday treats need to be sweet—you can add items that take advantage of more savory seasonings. For example, try offering up popcorn with a sprinkling of cinnamon or other holiday spice, or a creative assortment of cheeses (which in turn promote saliva flow to neutralize acid).
Combine treats with mealtimes. Continuous snacking may be part of the holiday tradition, but it can also raise the risk for tooth decay. Acidity increases when we eat, but saliva normally neutralizes it within thirty minutes to an hour. However, saliva can get overwhelmed during continuous snacking, resulting in longer periods of high acidity that damages tooth enamel. Instead, try to combine snack times with mealtimes.
Don't neglect your oral hygiene. Even though things can get hectic during the holidays, make a point of keeping up daily brushing and flossing. Regular hygiene keeps dental plaque, a thin film of harmful bacteria and food particles (including sugar), from building up on your teeth. Reducing plaque lowers your overall decay risk. Attention to oral health through your day-to-day dental hygiene routine along with regular professional cleanings and checkups is the best thing you can do to avoid dental disease.
The holidays should be a joyous time for you and your family. They can also be a healthy time for your teeth and gums, if you minimize the role of sugar in your holiday treats.
If you would like more information about boosting your dental health, please contact us or schedule a consultation. To learn more, read the Dear Doctor magazine articles "Nutrition & Oral Health" and "The Bitter Truth About Sugar."
By Eli B. Mayes, DDS
November 02, 2020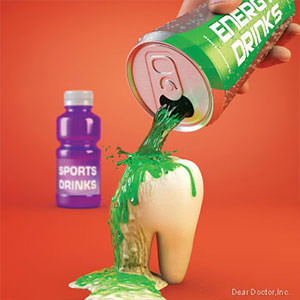 Although energy drinks are but a blip on the historical timeline compared to coffee or tea, they've displaced these traditional stimulants among nearly half of today's adolescents and young adults. But these sweetened "processed" drinks are also controversial among healthcare experts—particularly the effect they may have on dental health.
Besides the added sugar found in many energy drinks—a prime food source for harmful bacteria—many energy drinks and their cousins sports drinks contain significant amounts of acid. High levels of acid soften and erode tooth enamel, which can lead to tooth decay.
During one experimental study, portions of tooth enamel were subjected to a number of name-brand energy and sports beverages. Over the course of a few days, researchers recorded significant enamel loss, especially involving the energy drink samples.
Abstaining from both energy and sports drinks is a sound way to avoid enamel erosion (the best hydrator, it turns out, is simply water). But if you do wish to continue consuming these beverages, here are a few common sense precautions for reduce the risk of harm to your teeth.
Partake only at mealtimes. Among its many abilities, saliva is able to neutralize oral acid and bring the mouth to a neutral pH level within 30 minutes to an hour. But if you're sipping on high-acid beverages throughout the day, your saliva may not be able to compensate effectively. Drinking energy drinks only during a meal helps saliva do its acid-buffering job better.
Rinse with water afterwards. Rinsing with a little water after eating or drinking something acidic can help reduce the pH levels in the mouth. That's because water is by and large neutral on the acidic/alkaline scale. Because it's not adding more, rinsing with water dilutes any concentrations of acid that may still be lingering in your mouth.
Don't brush immediately. Brushing is essential to overall hygiene, but if you do it right after you eat or drink, you could be doing more harm than good. That's because elevated acid levels that naturally occur after consuming foods and beverages can temporarily soften and demineralize the surface enamel. Brushing could remove microscopic bits of softened enamel. If you wait an hour to brush, you'll be giving saliva time to "re-mineralize" your enamel.
If you would like more information on the role of beverage acid in dental disease, please contact us or schedule an appointment for a consultation. You can also learn more about this topic by reading the Dear Doctor magazine article "Think Before Your Drink."
By Eli B. Mayes, DDS
May 06, 2020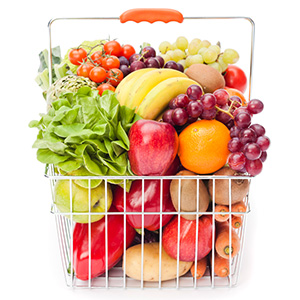 Oral cancer is one of the more dangerous malignancies people face. But there are ways you can reduce your risk of this deadly disease through changes in lifestyle habits and behaviors.
Two of the better known behaviors for increased oral cancer risk are immoderate consumption of alcohol and the use of tobacco, particularly chewing tobacco and snuff. Eliminating these, especially the latter, can vastly improve your odds of avoiding cancer. Another factor is a strain of the human papilloma virus (HPV 16) that's transmitted sexually, which you can avoid through safe sex practices.
In addition to these lifestyle changes, there's one more you should make to lower your oral cancer risk: adjustments to your diet. Research over the last half century has provided ample evidence of a link between the foods we eat and our risk of all types of cancers, including oral.
The biggest concern is over certain elements in some foods that can damage DNA, the molecular "operating instructions" that regulate the formation and function of our bodies' cells. These elements are collectively known as carcinogens because of their role in cancer formation.
An example of a carcinogen is a group of chemicals called nitrosamines. These form during preservation processes using nitrites in meats like bacon or ham. They're also found in beer or certain preserved fish. To limit your consumption of nitrosamines, you should reduce these and other processed products and replace them with fresh fruits and vegetables, or organic meats and dairy products.
Our DNA can also be damaged by unstable molecules called free radicals that arise during normal cellular function. But there are also substances known as antioxidants that help protect the cells from free radical damage. Many plant-based foods contain nutrients like vitamins C and E that have antioxidant properties, so including them in your diet could help reduce your oral cancer risk.
Several clinical studies over the years have been consistent in their findings that a diet rich in fresh fruits and vegetables can reduce the risk of oral or throat cancers, as well as other forms of cancer. Making changes to your diet in that direction, plus other lifestyle changes, could help you avoid this devastating oral disease.
If you would like more information on preventing oral cancer, please contact us or schedule an appointment for a consultation. You can also learn more about this topic by reading the Dear Doctor magazine article "Diet and Prevention of Oral Cancer."