Posts for tag: root canal treatment
By Eli B. Mayes, DDS
December 22, 2020

Dental patients have amazing options for tooth replacement. Dental implants, for example, can replace the entire tooth, root and crown, giving patients a new tooth nearly as good as the old one.
Nearly—but not exact. Even implants can't match the full benefits of a natural tooth, including one in less than perfect shape. Our first goal as dentists, then, is to save a diseased tooth if at all practical before considering replacing it.
That often involves a root canal treatment to address decay threatening a tooth's interior. The procedure requires drilling into the tooth to access its innermost pulp, cleaning out the pulp and root canals, and then filling the empty spaces. Since all dentists are trained in basic root canal treatment, your general dentist may be able to perform it.
But some dental situations call for more advanced endodontics, the dental specialty for treating disease and other problems inside a tooth. So, in what situations would you see an endodontist?
When your dentist refers you. Your dentist wants you to receive the level of treatment necessary to save your tooth. After examination, they may determine your situation would be better served by the advanced training, equipment and techniques (including surgery) of an endodontist.
When your tooth has complications. Patients often need an endodontist when existing factors complicate treatment of advanced tooth decay. A patient may have dental pain that's difficult to pinpoint, requiring the diagnostic resources of an endodontist. It's also common for a tooth's root canal network to be highly intricate, and which respond better to treatment with specialized endodontic tools and techniques.
When root canal treatment fails. Most root canal treatments are successful in protecting the tooth from further infection. That said, it's still possible for a root-canaled tooth to become re-infected or develop more problems. Again, an endodontist and their "tool chest" re-treating a root-canaled tooth may be the best option for saving it.
You also don't have to wait for a referral—you can see an endodontist if you believe they would be best to treat your decayed tooth. You can find one near you by visiting an online endodontist directory at www.aae.org/find. An endodontist may be the lifesaver your diseased tooth needs.
If you would like more information on saving a tooth through endodontic treatment, please contact us or schedule an appointment for a consultation.
By Eli B. Mayes, DDS
July 05, 2020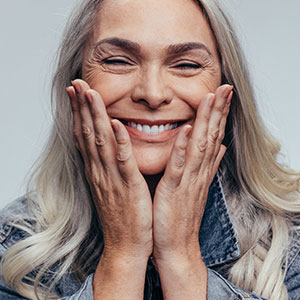 July is Park and Recreation Month, when we Americans celebrate our ongoing love affair with the great outdoors. Since Yellowstone became our first national park in 1872, we've been passionate about preserving our country's natural resources for the enjoyment of this and future generations. As dental providers, it also reminds us of something else worth preserving: our natural teeth.
Not that we don't have amazing restoration options for lost teeth. With the advent of dental implants, you can get a replacement that looks and functions like the real thing. But even though implants are an exceptional choice, they are still not superior in terms of the overall health protections of real teeth. So unless keeping a sick tooth would cause more harm than good, going the extra mile to save it is often the best choice for long-term dental health.
First, though: Preserving natural teeth doesn't start when they're in peril, but with daily and regular care. The "daily" part is your job—brushing and flossing to remove dental plaque, the single biggest factor in the occurrence of dental disease. Doing this every day is critical in preserving your teeth in the long run.
The "regular" part is our job—professional teeth cleaning every six months. Using special tools, we clear away any plaque you might have missed, plus any tartar (hardened plaque), which can't be removed with brushing and flossing. Routine dental visits also give us a chance to check your teeth and gums for any signs of developing decay or infection.
That's important because although prevention can minimize your risk of tooth decay or gum disease, it can't eliminate the risk altogether. If disease does occur, we'll need to treat it as soon as possible to avoid the worst case scenario of a lost tooth. Often, root canal therapy can save a tooth that is diseased on the inside. Using dental treatments, even extensive ones, as needed to preserve teeth remains the best way to optimize dental health.
Teeth treated for disease may still be viable, but they may look the worse for wear. Fortunately, we can often give unattractive teeth a cosmetic makeover. Tooth-colored fillings and porcelain veneers or crowns, for example, can completely change a tooth's appearance for the better. With the right enhancement procedure, you can keep both your natural teeth and your smile.
It takes an ongoing effort to maintain your natural teeth. But just like preserving the natural surroundings of our national parks, it's well worth the effort.
If you would like more information about daily and regular dental care, please contact us or schedule a consultation.
By Eli B. Mayes, DDS
January 04, 2016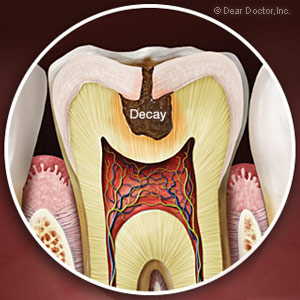 It's absolutely critical to stop tooth decay and repair any damage to tooth structure. Hopefully, we've caught it early in the enamel and dentin where we're able to repair any holes or "cavities" that might have developed by filling them.
But what if the decay has crept deeper into the interior of the tooth? In this case, you're at a much higher risk of eventually losing the tooth. If the decay has spread into the bone, a root canal treatment is usually your best option.
The first sign that decay has invaded the pulp, the innermost layer of the tooth, and the root canals may be a severe toothache. It's different from the wince of pain or discomfort caused by sensitivity to temperature or pressure. Inner decay pain is constant and often excruciating. This is because the infection is attacking the nerves bundled within the pulp chamber.
The pain can last for several days, and then suddenly stop altogether. No pain is good news, right? Wrong — the pain has stopped because the infected nerves have finally died and can no longer signal the brain. The infection, though, is very much alive and will continue to advance toward the root where the damage may eventually cause you to lose the tooth.
A root canal treatment removes decay in the pulp chamber and canals. We first drill an access hole to enter the pulp chamber. Once inside, we use special instruments to completely remove all tissue and disinfect the empty chamber. We then fill the chamber and root canals with a special filling and seal the access hole to prevent further decay. A few weeks later we install a custom crown to protect the tooth further.
If you have a toothache, or you've had one that suddenly went away, you should schedule an appointment for a dental examination as soon as possible: this is the only way to accurately determine the cause of the pain. If a root canal is deemed necessary, the sooner we perform it, the less chance the infection will cause you to lose your tooth.
If you would like more information on root canal treatment, please contact us or schedule an appointment for a consultation. You can also learn more about this topic by reading the Dear Doctor magazine article "Signs and Symptoms of a Future Root Canal."